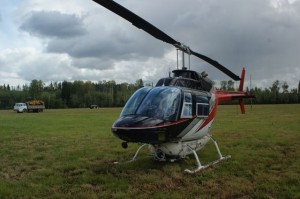 In the late summer of 2010, a helicopter landed at my parent's ranch in Punchaw, BC, southwest of Prince George.  Strapped to its belly was a large herbicide tank of Monsanto's VisionMax glyphosate, which the pilot, a gregarious ex-US Army pilot, was going to employ against the surrounding forests.  Their rationale was that the stuff was harmless.  It was virtually safe and just knocked back the unwanted vegetation like weeds in a garden.
Curious if this was indeed all so simple, I began to conduct some of my own research. My underlying question had to do with why were we killing a whole class of plant species on such a large scale?  The whole area around our ranch, including the massive clearcuts down the 1400 Road, were being sprayed, and this wasn't the only helicopter that was working.  Over the next several days I watched a whole fleet of them crisscross the clearcuts.   Neighbouring ranchers expressed concern.  One family had turned cattle out onto a block that was shortly thereafter sprayed.  Another family had picked a bucket of blueberries, only to find a sign stating the block had recently been sprayed.  They threw out their blueberries, thankful they happened to see the small, letter-sized sign.  Another family noted that their cattle forage was now dead as a result of spraying.   But there was something even more disturbing about what was happening.  As I began to more closely investigate the forests that were growing back around the ranch that had been sprayed, it quickly became apparent we were altering the genetic makeup of our forests.  The complex stands of deciduous and conifers, so prevalent in this area before, were being replaced with conifer monocultures often of surprising simplicity.  In some blocks I searched from one end to the other for a single surviving aspen, birch or even willow.  The complete efficiency of the chemical eradication was astonishing. We had tossed whole networks of ecological webs out the window, denying habitat and thus life to many species of our public forests.   The fundamental contempt of forest life and diversity was evident in the risks we were willing to take with frogs.   Knowing that glyphosate herbicides and their unregulated additives are highly toxic to frogs in small concentrations,  the BC Government conducted not one single study of frog populations or their vulnerability to aerial herbicide spraying.  Sensitivity of nine out of eleven frog species in BC has never even been tested.  We continue to use a poison at high enough concentration to kill 50% or more of them in a typical aerial application without ever having studied the impact.
For what purpose?  The chemical-assisted genetic cleansing of our backwoods was ostensibly because we couldn't wait so long for the trees to grow back.  It was questionable logic from the beginning.  If we killed everything that wasn't a conifer, the conifers would grow faster.  It was supposed to be like a garden. The problem was it wasn't so simple. Forests take over a hundred years to mature. A lot of things we have no control over can happen during that time. Considerations of increased risk to disease, fire, and insects were ignored.  Long-term soil depletion and the questionable assumption that you can quicken the rotation cycle without losing marginal productivity were either dismissed or deemed solvable with endless supplies of man-made fertilizers. As masters upon the land granted the unquestioned privilege to toy with life at will, we did so, but with little understanding of its consequences and as it turns out, with little certainty that it would work at all in the first place.
Research is now showing that the benefits of herbicide spraying are over-rated and that the loss of tree species like birch and aspen is detrimental to forest health, long-term yields, and even short term yields themselves.  Overall biomass and wood fibre is greater in unsprayed forests.  Resistance to disease and insect infestations is greater in mixed stands with more birch and aspen.  Resistance to fire is greater.  Wood quality is even better in unsprayed stands, since conifers grow taller and straighter with higher aspen density.  I soon discovered that there really was no good reason, whatsoever, why we should be spraying our public forests with a known toxin.  Together with my parents, Walter and Susan, we approached Rick Fraser, the bureaucrat responsible for implementing Prince George's Pest Management Plan, and expressed our rejection of the need to spray anything, including an official letter along with a letter expressing our concerns with killing a wide variety of flowering species that bees relied on.  We forwarded the letters to Steve Thomson, Minister of Forests, Don McRae, Minister of Agriculture, Terry Lake, Minister of Environment, Paul Van Westendorp, Manager, MCMAL Apiculture Program, Manuel Mariotto, Ministry of Environment, and Jim Snetsinger, our Chief Forester.  No response was ever received other than a short letter from Rick Fraser that dismissed our concerns.  We decided to make a website.  I took the task of writing it up and this is the result so far.
James Steidle
james.steidle@gmail.com
www.jamessteidle.com