SIGN OUR PETITION on CHANGE.ORG
Follow and like our Facebook Page 
Every year in BC forest companies and government agencies spend millions of dollars to eliminate broadleaf species including aspen and birch from replanted conifer plantations, as shown in the photos above.
This vast conversion of our forests from bio-diverse stands with many broadleaf species to conifer monocultures is required by law, signed off on by Registered Professional Foresters, and is supported by the Association of British Columbia Professional Foresters.
The result is a plantation forest with far less biodiversity than before.  Without broadleaf trees and shrubs, many species of northern forests could not survive.  They are also more vulnerable, as recent fires across pine monocultures in Chile demonstrated.  Conifer monocultures also absorb more sunlight due to their year-round darker colour and fight global warming less effectively than an aspen forest would!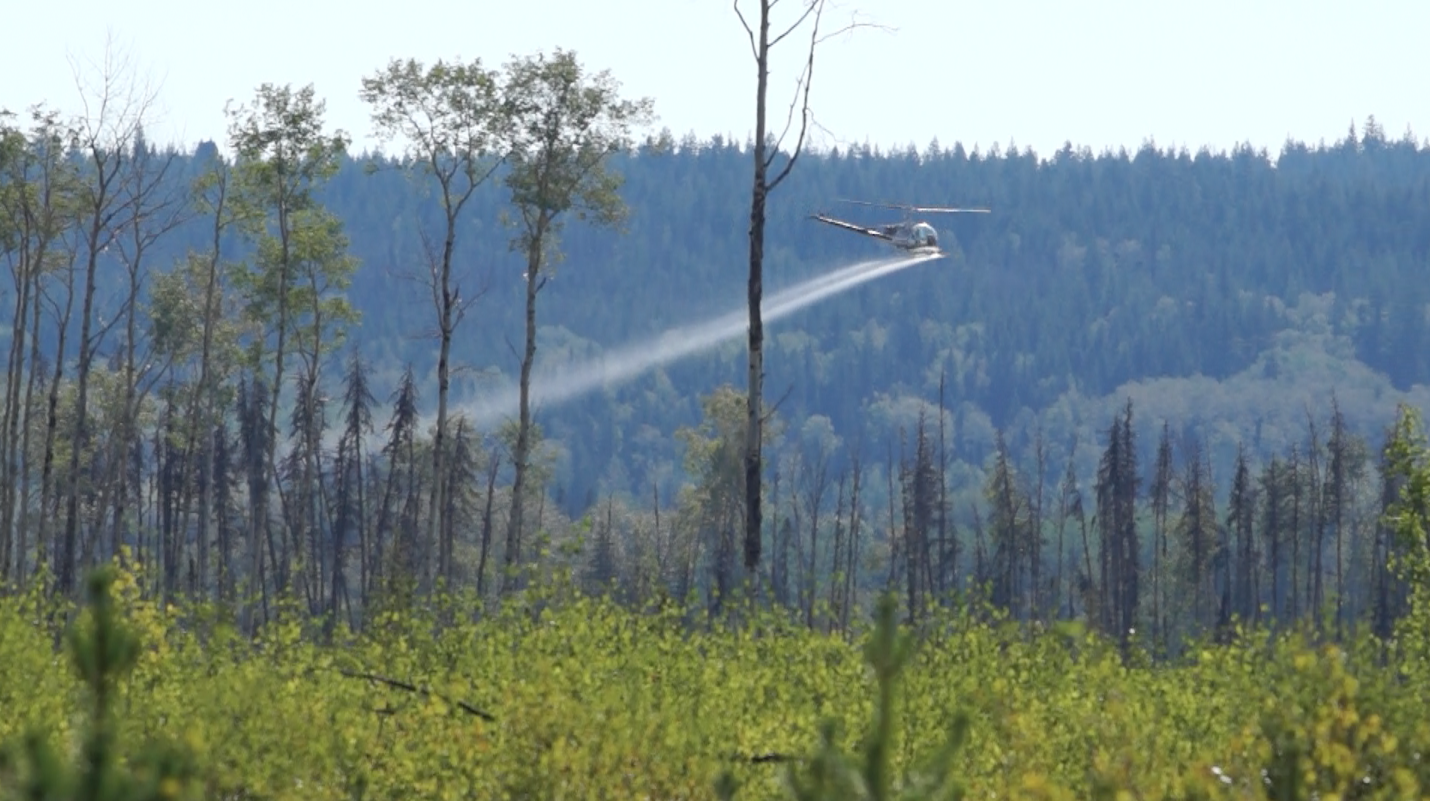 The reason this is done is because forest industry in the Central Interior does not utilize aspen.  Consequently aspen is considered a "pest" and government requires it's elimination.  Due to existing stocking standards, mixed forests are technically illegal, despite recent studies showing they create more timber and are more resilient. Unless the lumber company wants to face a penalty for failing to "reforest", they have to eliminate all so called "weed" trees including aspen.  Converting mixed stands to monocultures is considered sustainable forestry and is certified by organizations such as SFI.
My letter to BC Timber Sales Regarding their 2016-2021 Pest Management Plan.
A long-standing practice, we've sprayed or manually brushed over 1.3 million hectares of forest across the Province since 1980, an area a third the size of Vancouver Island. We still spray around 15,000 hectares a year today, mostly in the Central Interior.
This is a website that seeks to provide information on this activity and to pose a few rhetorical questions:
Why is it illegal to grow mixed forests with deciduous and coniferous components in BC?
Will lodgepole pine monocultures survive as our climate warms?
What if aspen and birch make our forests more resilient?
Are we sure aspen and birch won't have increasing commercial values into the future?
Why won't industry utilize aspen west of the Rockies?
How do we know that aspen and birch and the many other shrubs we kill don't play a critical role in maintaining healthy soils?
How do we know that the fire-proof aspen and birch won't play a role in suppressing wildfires as warmer conditions prevail?
Why are we applying a chemical to public forests that is a known toxin to frogs, insects and invertebrates, and which kills food for many animals and has a known impact on wildlife populations?
Why does the professional association of foresters in BC condone this practice?
Unwanted Forest Silent from James Steidle on Vimeo.